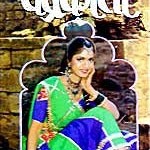 Chandrakanta is a hindi novel written in 1888. This is fantasy fiction something similar to the "Harry Potter" series, which the younger generation of today is so fan of. It is important to note that during the time when this book was written, Urdu was the language in use in the country and Farsi being the official language of Mughal courts. Therefore, this work is considered to be the first work of prose in the modern Hindi language. There were people from different generations who learn hindi script (devanagari) in order to just read this series of books. This story has a big hand in making Hindi popular among masses.
Chandrakanta is a simple love story between a prince Virendra Singh of Naugarh and princess Chandrakanta of Vijaygarh. The lust of Krur Singh, who was a member in the court of Vijaygarh is the main reason of twists and turns in this story and brings in the concept of Aiyyar and Tilasm. An aiyyar is usually employed by royal houses. They are expert spies and are well versed in the act of disguise, medicines and fighting. As usual with many love stories, this story too ends with both the lovers meeting together and getting married.
Overall the story line is quite captive inspite of being a very simple plot. There is no break in the story and the interest of the reader remains till the end, where a lot of secrets are disclosed.
The book is in Devanagari script (Hindi script), but uses a lot of Urdu words, as Urdu was very popular language at those times.
Followed by Chandrakanta, the author also wrote a series – "Chandrakanta Santati", meaning "The Sons of Chandrakanta". I am looking forward to reading that series too.
About the Author
Babu Devakinandan Khatri was born in 1861 in Samastipur in Bihar (India). He was an employee of the "Raja of Banaras" and also established a printing press called "Lahari Press", which interestingly is still in existence near the city of Varanasi. The author has written several Hindi fiction / fantasy novels and has quite a big hand in making Hindi a popular language. Interestingly he never wrote any of his works at one go. He used to write individual chapters, called "Bayans" – an urdu word meaning "Statement" and publish them. People used to wait for those individual chapters in order to know what happened next in the story. Devakinandan Khatri passed away in 1913.