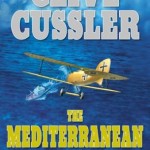 A world war I vintage Albatross fighter attacked an US airfield in a remote island in Greece. Dirk Pitt who was flying near that area and was en-route to assists the NUMA research ship facing sabotage, received the distress call from the control tower. After successfully managing to chase the attacker away and some initial investigation regarding the sabotage on the NUMA ship, he realised that the two cases are linked together somehow. In the process, he found the connection linking the two events together and with some help from interpol managed to crack down a smuggling racket linked with World War II war criminals.
As with the previous book, the best thing I liked about this book is the lack of modern gadgetry and pure instinctive and detective skills in the main character. There was no super hero like bravery, but yet the character was a hero in a more practical sense. The language of the book is very simple and there is no unnecessary complications in the plot. The story moves very smoothly and does not have any gaps. This is an action plot, but yet there is no unnecessary gunfights or unarmed combats in the plot. It more or less fits into the category of "adventure". One of the disappointing part of the whole plot was treating the female characters as merely sex objects. This reminds be of James Bond plots where the heroin in the whole plot have not much of a role to play and inspite of being very good at what they are, they all were seduced by James Bond and they kind of liked that. But again, this novel was written more than 40 years back and perhaps that could be the general mindset at that point of time. Thankfully, this dis-pleasing part was somewhere in the beginning and in the last couple of pages when Dirk Pitt "borrowed" one of the female interpol agents.
About Clive Cussler
Clive Cussler is a fiction writer and founder of the National Underwater and Marine Agency, (NUMA). NUMA is a non-profit organisation that dedicates itself to preserving American maritime and naval history.
Clive Cussler begin writing in 1965 and published his first fiction novel in 1973, featuring Dirk Pitt as the main character. So far 23 books have been published in the Dirk Pitt Series. In addition to the Dirk Pitt series, Cussler has written NUMA Files (13 books) series, The Oregon Files (10 books) series, Isaac Bell (8 books) series, Fargo Adventure (7 books) series with other authors.