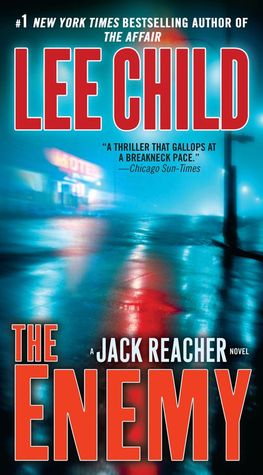 "The Enemy" is the 8th book in the "Jack Reacher" series by Lee Child and this book is a class in itself. Unlike the previous books where Jack Reacher was shown as an X-Army MP, an ultimate loaner finding trouble where he goes, this book is a based on Reacher's past life during his Army days from the 1990's.
In this book we got a chance to spend some moments spent with Reacher's mother and brother. We get to know some historical facts about Reacher's mother from the day's of the world war II.
The book starts with the death of an Armoured General in a cheap New Carolina motel under disturbing circumstances. Further in the first few pages we get to know that Reacher was transferred out of Panama to North Carolina on the new year's eve. Then a sequence of murders start, some of which implicate Reacher himself and it was looking like he got himself in trouble with some delta force Sargent's. Reacher saw that along with 20 other elite unit major's, his CO, Col Garber got transferred same night and a bureaucratic Col replaces him who did not want Reacher to investigate the murders and bury them. Reacher being Reacher continues the investigation along with a young lady Lt, found the culprits and risk being court martialed but ended up loosing rank and seniority.
A very gluing book, a must read for Reacher fans.