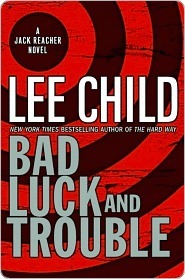 In addition to his standard folding toothbrush, Jack Reacher started carrying his passport as his identity document and an ATM card to withdraw cash from his account. This is a good progress into the "civilized world" for a guy like Reacher.
One fine day while withdrawing cash, he saw a deposit with a very strange looking number, something which triggered an alarm in his sub-conscious. After validation the source of deposit from his bank, he realized its a call from a fellow officer seeking help, and he proceeded immediately to LA. Upon his arrival he found that 4 out of his old team of 8 special investigators from Army days is missing and perhaps dead. And Reacher got involved in the investigations along with the remaining members of his team. It turns out a mix of arms/defense technology and terrorism related stuff.
It was a pleasure seeing Reacher working in a team, rather than the usual "alone". He seems to also realize that they are getting out dated in terms of modern methods of investigation and are being out-smarted by other folks. In this case, Reacher manages to secure some finances for himself so that he can continue for some more time without having  to work somewhere in order to replenish his depleting bank reserves.
Let us see what happens in the next book in the series.