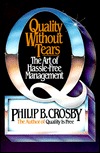 This is an excellent book and a must read for managers. Crosby has listed 14 steps to attaining the Zero Defects. However, this should not be the first read, unless you are already familiar with the concept, tools and techniques of quality management. First you should be reading Quality is Free (by the same author).
I strongly feel that you should believe in the concept of quality or the fact that there is always a scope of improvement in what you do, only then you can progress.
The entire concept of Quality Management is about "excellence in work", which is what is taught by ancient Hindu holy book – Srimad Bhagavad-Gita.
And yes this applies to your personal life as well as work life.